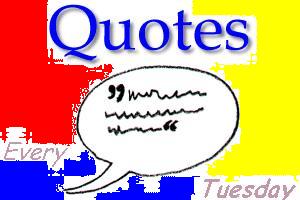 He decidido que cada Martes les ofreceré una sección con citas de destacadas personalidades o de otras que no sean tan desatadas pero que tengan algún pensamiento que haya influenciado mi vida, este influenciando o sea de algún valor. Hoy día comenzaremos con las mis preferidas, a lo mejor las siguientes semanas ponga solo una pero para comenzar ahí van tres. Disfruten y opinen acerca de estas!!!
I have decided that every Tuesday I will offer you -my readers, a section with quotes of outstanding personalities or others that are not so outstanding characters but have some interesting thoughts. These quotes have influenced my life, are influencing it right now or have some sort of value in it. Today, I will begin with my favorites, the following weeks I may give you just one. However, today there are three. Enjoy them and give me your opinion about them!!!
1. We are a product of the choices we make, not the circumstances that we face.
-Roger Crawford.
2. Si la vida no te sonríe, hazle cosquillas.
-La encontré en papelitos de una amiga especial y por años ha constituido y constituye mi filosofía de vida.
3. Politics is a good thing!
-Larry Sabato.